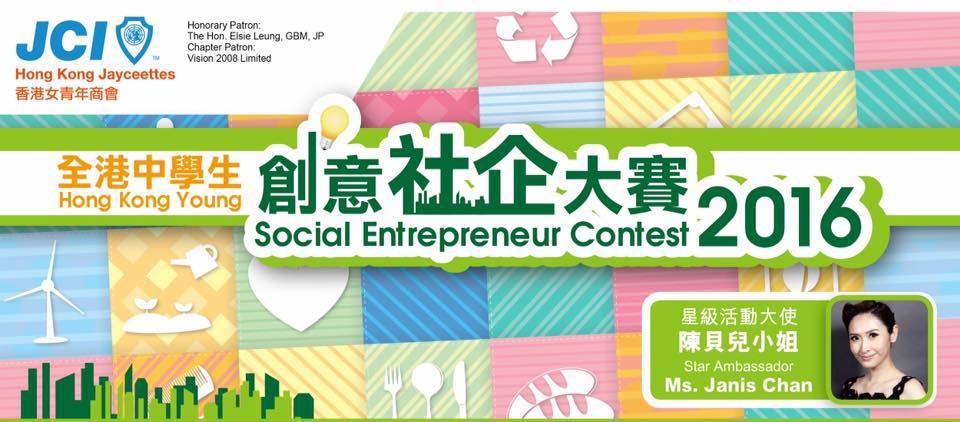 Hong Kong Young Social Entrepreneur Contest 2016 (HKYSEC 2016)
Introduction
Business Affairs and Community Development Team presents the second year of "Hong Kong Young Social Entrepreneur Contest" (the "Contest") co-organised with the Business-School Partnership Programme of the Education Bureau, HKSAR Government together with the support from UNESCO Hong Kong Association as our strategic partner. This year, we had received applications from more than 240 students participating in the Contest. The Contest promotes the concept of social innovation targeting to Form 4 and Form 5 students through a series of workshops, visits to Social Enterprises ("SEs") and the internship opportunity to the champion team, enabling students to learn more about social entrepreneurship and develop innovative business ideas tackling United Nations Sustainable Development Goals (SDG) for creating positive changes to our society.
The program also supports secondary curriculum needs including "Other Learning Experience" (OLE) and "Creativity, Action, Service" (CAS) experiences. This year we are delighted to have Ms Janis Chan (陳貝兒) as our Star Ambassador.
Events
a) Opening Ceremony
The Opening Ceremony was held on 12 March 2016 at Hong Kong Polytechnic University. The event was well-attended by over 300 participants, with 60 teams from 25 schools registered.
The event was packed with a series of programme to prepare students for their first submission of business outline. After the kick-off, a keynote speech was given by Ms Doris Leung, Chief Executive Officer of Diamond Cab, followed by the introduction to The Global Goals for Sustainable Development by JCI Hong Kong National United Nations Affairs Director, Ms Jessica Lee ; after which a business plan writing workshop was conducted by our star trainer, founder of ICE Intercultural Education, Mr Feddy Law.
b) Peace & Sustainable Development International Youth Festival
We were honored to be invited as one of the exhibitors for the event organized by our strategic partner UNESCO Hong Kong Association on 9 April in which we could increase student's awareness of the 17 United Nations Sustainable Development Goals (SDG) via memory games with participants explaining their thoughts on these goals. We hope to imprint these important concepts on their mind at their early stage of life for better community development and positive changes in future.
c) First Round Judging
57 innovative business outlines were received and 15 teams were shortlisted to the second round by our judging panel, including Past President Senator Joanne Li, Past President Senator Brenda Lam and Past President Senator Kathy Woo ON 17 April 2016.
d) Visits to Social Enterprises
The 15 shortlisted teams were divided into 3 batches to visit local social enterprises ; Rooftop Republic Urban Farming (雲耕一族), Link Education (共融教室) and Senior Citizen Home Safety Association (長者安居協會) on 24 April, where students were given opportunities to see real examples of how Social Enterprises are being run.
The visits enabled them to grasp the rationale of setting up these SEs; also deepened their understanding of their operations by having first-hand experience. Hence better prepare them to complete the final business proposal for final submission.




e) Second Round Judging
5 teams were selected by our star panel of judges from NGOs and SEs, (JCI Hong Kong National Vice President Senator Maric Cheng; JCI Hong Kong Jayceettes President Ms. Patrizia Yeung; CEO of AusCode Worldwide Limited ,Ms Jessica Chan; the Head of Corporate Affairs of Senior Citizen Home Safety Association, Ms Esther Yuen; Co-founder of Rooftop Republic Urban Farming, Mr. Andrew Tsui and founder of Link Education ,Mr. James Fong), to enter the final round of the Contest.
f) Final Round and Closing cum Award Presentation Ceremony
Finalists showcased their SE business proposal to the panel of judges followed by an Q&A session in the final presentation held in the morning of 2 July 2016 The judges presented some challenging questions to the students yet were astonished to hear many innovative ideas from the teams. Judges panel included Senator Brian Kwan, National President of JCI Hong Kong,Mrs. Catherine Ng, Founder of Silcon Electronics Co. Ltd., Ms. Elsie Tsui, Project Director of Hong Kong Social Enterprise Challenge of The Chinese University of Hong Kong, Mr. Kee Chi Hing, President of the Fullness Social Enterprises Society and Ms. Rosanna Wong, Vice President of JCI Hong Kong Jayceettes.
Results were then announced at the Award Presentation session after judges' evaluation. The Closing cum Award Presentation Ceremony was held in the afternoon on the same date, attended by over 300 participants. The Ceremony was witnessed by our Guest of Honor, Dr. David Chung, JP, Under Secretary for Innovation and Technology. We were also delighted to have invited Star Ambassador, Ms Janis Chan ,to give a keynote speech on her vision of setting up "Green Monday" and her insights of being a vegetarian and awareness on the Global Warming; followed by the sharing session by Mr Earnest Wong, co founder of a successful local start up Social Enterprise called The Second Box. The event wrapped up with the presentation by the champion team of their winning proposal.
HKYSEC 2016 Results as followed:
Champion: St. Catharine's School For Girls- Milky Express
1st runner-up:Po Leung Kuk Vicwood K. T. Chong Sixth Form College,KTC - 環保酵素有限公司 (酵出環保)
2nd runner-up:De La Salle Secondary School, N.T. -「添」兼職配對公司
The Most Supportive School Award:St. Catharine's School For Girls
The Best Presenter Award:De La Salle Secondary School, N.T. -「添」兼職配對公司
The Best Social Mission Award:St. Catharine's School For Girls - Milky Express
The Most Sustainable Award:St. Catharine's School For Girls - Milky Express
The Best United Nations SDG Award:Po Leung Kuk Vicwood K. T. Chong Sixth Form College,KTC - 環保酵素有限公司 (酵出環保)
g) Internship for champion team in local Social Enterprises
Internship opportunities were arranged for the champion team to enhance their exposure and understanding. One of our supporting organizations, Support the Employment of People with Disabilities "SEPD", had offered internship for the winning team during July to August in which the students participated in the daily operation in Home Market (家園便利店) and events in local community.